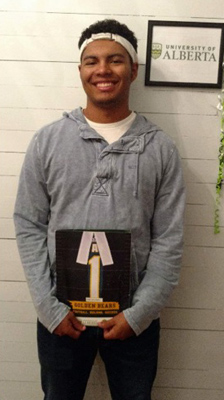 Kobe Holloway | 2017 | Siksika
Kobe Holloway was born on May 2, 1999 and has four siblings and one nephew. Kobe's mother, Tammy Holloway, is Blackfoot, and his father, Chuck Holloway, is an African American. At a young age, Kobe's father served in the military, so he moved often throughout the United States and Canada and was not exposed to his Native heritage. Kobe's parents wanted him to embrace his Blackfoot culture and made the decision to settle in Siksika Nation, the home of his mother's ancestors. Kobe attended school in Strathmore, Alberta and completed his last year of high school in the United States to get exposure to his African American culture and to playing football.
Kobe values both of his cultures. He has struggled with racism and acceptance from his peers because of his appearance. He channeled this experience positively to better himself and to model respect and empathy for others regardless of their background. "Strive for excellence" has become Kobe's motto and he believes that hard work and dedication is the key to success. Kobe wants to help other individuals who struggle with their own identity to embrace it.
Kobe is currently a mentor for youth in Siksika through the Siksika N7 program. He hopes to share his story of breaking through the barriers that he experienced because of being biracial. Kobe feels it is necessary to succeed in his educational endeavors, obtain a degree and achieve his goal of becoming a neurologist. He plans to do this by attending the University of Alberta and majoring in biomedical engineering, while playing football for the UofA Golden Bears. Kobe strives to have a ripple effect that will help change attitudes towards people of different race and culture.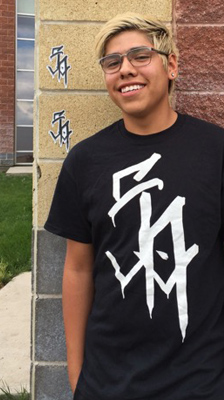 Phillip Morin | 2017 | Siksika
Phillip Morin is from the Siksika Nation, where he has lived his whole life with three brothers and his mother. Growing up, Phillip went through the challenges of being raised by a single parent. He was always active as a kid, but he was bullied a lot at school. As a teenager, Phillip dreamed of becoming a skilled skateboarder like his older cousin and role model, Brandon Wolfleg. Brandon died in 2014.
To commemorate his late cousin, Phillip and his family and friends organized a skateboarding competition and barbeque, which is now held every year on June 21. Phillip and his older brother, Kyler, recognized the significant harms occurring among youth in their community from violence, drugs and alcohol. Feeling that they could relate to the challenges and negative experiences of others, they wanted to do something to counter this trend.
In 2016, Phillip and Kyler established a skateboarding company with a mission to help heal, preserve, and bring hope to Siksika youth. The company, SkateAholics, hosts many events and sells clothing and other merchandise. Establishing and growing the company was a steep learning curve and required determination and commitment. At the same time as developing his company, Phillip committed himself to finishing his school work. The success of SkateAholics and the impact Phillip and his brother are having on young people were recognized by community leadership and Phillip's school principal.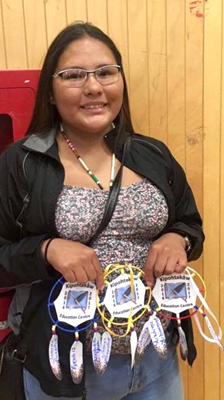 Tamera-Leigh Burnstick | 2017 | Alexander First Nation
Tamera-Leigh Burnstick is a 19-year-old Cree woman from Paul First Nation who grew up in Alexander First Nation. Growing up, she was a happy girl who loved her family. However, at a young age, Tamera-Leigh lost her mother to a severe illness. She then lived with her kukum (grandmother), mushum (grandfather) and her sister. They provided her with love, knowledge and support, but she was still troubled by the passing of her mother.
Beginning in junior high school, she began a pattern of poor grades, absenteeism, smoking marihuana and keeping friends who were a negative influence. At 14, she was taken into child care and was sent to a group home in Edmonton. Tamera felt angry and lost. She engaged in alcohol, substance abuse and illegal activities. She found herself in dangerous and life-threatening situations, including drug overdoses. She underwent treatment, but continued to struggle with addictions, even though she saw how much pain it was causing her family, friends and teachers, and how much harm she was causing to herself. In 2014, she was able to stabilize her life after a 90 day rehab program for youth.
The following year, Tamera found herself facing a new challenge - senior high school. This time, something had changed. She worked hard and put more effort into every challenge and opportunity that faced her. She began receiving many awards and recognition for her efforts, including awards for academic achievement and for female athlete of the year. Tamera had many new experiences, learned a lot about herself and began participating in youth leadership activities.
Although Tamera was in a dark place, she believes that with the support of her family, friends and teachers, she is lucky to be alive and to have turned her life around and to be achieving success in school. She believes that the creator has a bigger role for her as someone who can be a role model to help other young First Nations individuals overcome adversity and strive to achieve their goals.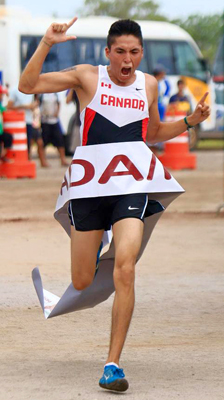 Rilee Manybears | 2016 | Siksika
Rilee was raised in Siksika Nation, Alberta, where he lived with his parents and his three younger siblings. During his elementary school years, at the encouragement of one of his teachers, he joined their school track and field team. He also participated in other sports such as cross country, basketball, volleyball, and golf throughout his school years. In his high school graduation year, he set a record for the Bassano School by competing in 4 different ASAA Provincial Championships in one year: track and field, cross country, volleyball and skills (TV/video editing).
High school was also a devastating time for Rilee because he lost his father, who had always supported and encouraged him. Not long after his father's death, Rilee began struggling with drugs and alcohol to numb his pain.Through conversations with his younger brother, Rilee realized the destructive path he was on and how it was upsetting to his family. Rilee began running again as a form of healing.
The following year, he began training for the North American Indigenous Games. In 2014, at the Games, Rilee won gold in the 3,000 meter, bronze in the 1,500 meter, and bronze in the 6,000 meter cross country races. He also began training with the University of Calgary Track & Field team to prepare for the next Canadian Cross Country Championships. Rilee's running highlight occurred when he won Gold in the 8,400 meter race at the first World Indigenous Games held in Palmas, Brazil in 2015. Rilee was also selected to be part of Billy Mills' Team Running Strong, to participate in the Boston Marathon in 2016.
Rilee's story is told in a short documentary entitled "The Failure Way," available on Youtube. He now speaks at various events across Alberta to share his inspiring message of perseverance and hope.